Traditionally, an enterprise with several branches would normally have a WAN that connects its branch offices to its HQ or Data Center (central hub). These branch sites connect to the central hub through private links like leased circuits or MPLS. As shown in the diagram above, some enterprises with branch offices might hire other forms of WAN connectivity like Internet for backup purposes, which mostly stays idle and literally wastes the resources. Besides, in this case, a failover also meant all the current sessions would be lost and typically the failover process and timeframe was not ideal.
Another issue is that those private WANs often used technology which required special proprietary hardware. However, enterprises today are demanding more flexible, open, and cloud-based WAN technologies, rather than installing proprietary or specialized WAN technology that often involves expensive, fixed circuits, or proprietary hardware.
Building an Intelligent, Flexible, and Agile WAN
>  The Q-Balancer SD-WAN
The Q-Balancer SD-WAN solution can be a scalable and often much cheaper alternative to traditional WAN circuits like MPLS lines. The solution aims to support multiple connection types and VPNs between sites, offer dynamic and flexible WAN connectivity, reduce costs, and improve network performance and management.
The Q-Balancer SD-WAN is designed to deliver a business-class, secure, and simple cloud-enabled WAN connection with as much open and software-based technology as possible. The Q-Balancer SD-WAN solution provides bandwidth expansion as well as direct optimal access to enterprise and cloud applications, and data. The Q-Balancer SD-WAN architectures support on-premises and cloud deployments, and they are illustrated below: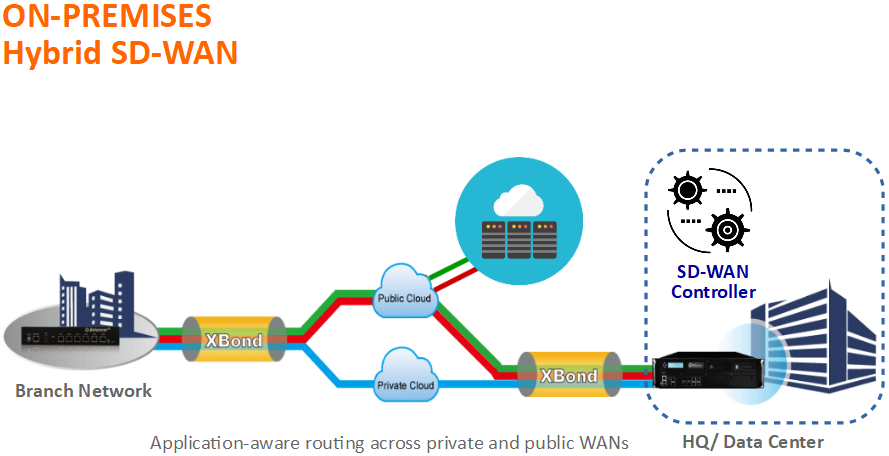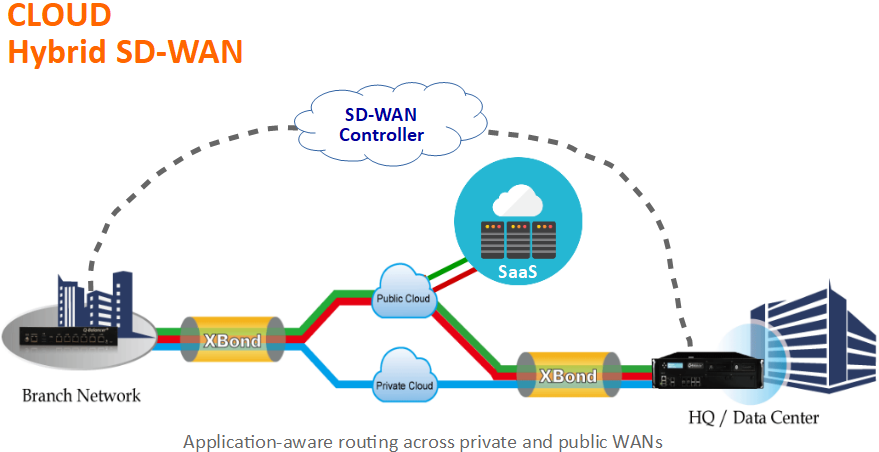 As depicted in the diagram above, the appliances are respectively deployed at both HQ and branch office. The public WANs (red and green) in this case can be ADSL broadband or wireless lines, while the private backhaul (blue) is with MPLS line. Cloud-based applications from branch office will be primarily directed out via public WANs without going back the HQ/ Data center site. Internet-bound traffic is offloaded from the private backhaul with a hybrid-cloud network that provides optimized path selection between public and private clouds. The delivery for those applications that are hosted at the data center is thus improved.
With the Q-Balancer SD-WAN capabilities, enterprises create smart and responsive networks, which meets bandwidth demand in real time and actual network conditions. Critical applications have priority and all applications take the best-quality path through the network, ensuring continuity and quality so business can get done. Whether the WAN is all MPLS or a combination of MPLS and broadband lines, the Q-Balancer SD-WAN solution ensures continuous availability and predictable application performance to keep productivity moving at optimal speed.
>  The benefits of SD-WAN
Below are the major benefits of SD-WAN for enterprise networks:
Reduced cost – Replace or augment the expensive MPLS WAN links with less expensive broadband links and still get the same experience. As a result, enterprises should be able to invest more in low-cost broadband links and so as to minimize the size of their expensive private links.
Transport Agnostic– High amount of bandwidth capacity will be provided through WAN virtualization, which is faster than either one individually. Multiple locations within an enterprise being inter-connected via transport-agnostic WAN turns bandwidth and connectivity management from multiple carriers complexity into a competitive advantage.
Quick provisioning – Branch networks and their relevant routing policies can be provisioned automatically. Besides, using broadband or wireless links is usually easier and faster to bring up MPLS links at remote sites. These advantages mean branch offices can be brought online faster than they would be using traditional MPLS links.
Path optimization – Monitor metrics like bandwidth consumption, packet loss, delay, jitter, etc on a link, and then decide the paths for certain type of traffic to maintain necessary level of quality.
Network simplification – Consolidate office infrastructure and potentially eliminate various network devices at branch networks with enterprise-grade features such as WAN failover, WAN restoration, WAN load balancing, VPN bonding, Firewall, QoS, Inbound Load Balancing, and overlay routing.
Centralized Control – Reduce administrative workload at the branch sites as management can be done from the HQ/Data Center site, leading to the minimal or quick configuration on branch devices, which just need to connect to the controller and automatically get the appropriate configuration.