Building a Intelligent and Agile WAN
MPLS is a reliable and secure technology for building a fixed-path VPN over an IP network between branch offices and headquarters/ data centers. Enterprises commonly choose MPLS network to connect their offices at different locations. However, enterprises with MPLS networks are still facing challenges such as high cost, long lead time for deployment, backhaul penalties, etc.

Traditional WAN
>  Q-Balancer SD-WAN
Software-defined WAN (SD-WAN) technology is the solution to meet the challenges. SD-WAN offers augmented connectivity, better cloud application delivery, simplified WAN operations, and reduced operational costs for those managing public and private WAN connections. Q-Balancer SD-WAN delivers a business-class, secure, simple, and cloud-enabled WAN connection with as much open and software-based technology as possible through augmenting or even replacing traditional MPLS with affordable Internet bandwidth.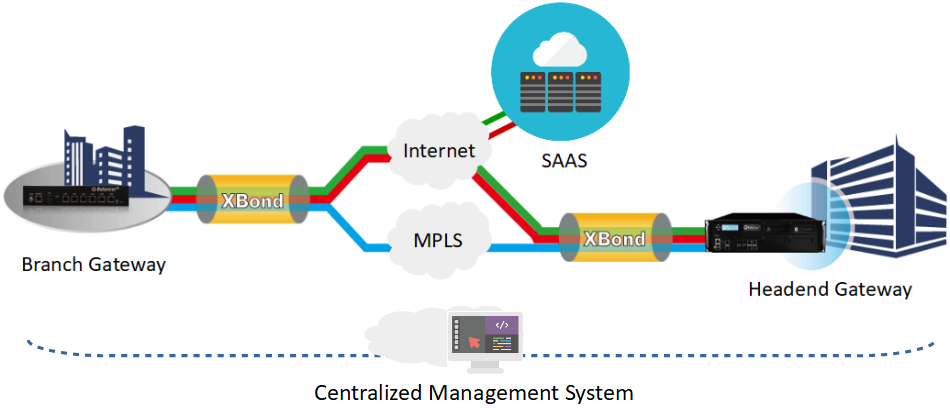 Q-Balancer SD-WAN
>  Intelligent WAN Management
Q-Balancer gateways enable the simultaneous use of multiple WAN links and automatically fail over to the secondary connection in the event of WAN outage or brownout. The gateways also have the ability to direct traffic to the optimal path or distributes traffic across the selected paths. Q-Balancer's centralized management system makes all gateway devices easy to provision, monitor, and manage. It provides the visibility for admins to view traffic within the network.
>  MPLS Augmentation & Replacement
Q-Balancer delivers a business-class, secure, and simple cloud-enabled WAN connection with as much open and software-based technology as possible. Q-Balancer enables enterprises to flexibly expand network scale, delivers optimal access for both site-to-site and cloud applications.
>  Flexible Bandwidth Licensing
Q-Balancer offers scalable bandwidth throughput based on license upgrade. Thus, you may upgrade its bandwidth throughput as business grows. This enables you to utilize the full hardware performance capabilities without the need to purchase new hardware for bandwidth throughput.
The Components of Q-Balancer SD-WAN:
Branch Gateway
All Q-Balancer devices support multiple WAN transports across broadband, MPLS, and cellular 4G LTE links. Software features include the ability to route and prioritize traffic being sent to the data center, public cloud infrastructure or the Internet. Each device also supports High Availability (HA) requirements (e.g. active/active and active/standby), making it ideal for sites that need full redundancy. 
Headend Gateway
Q-Balancer Headend Gateway deployed in headquarters or data center environments work as VPN concentrators to terminate traffic from branch gateway devices. The headend gateways work together with branch gateway devices to enable seamless failover and secure connectivity. Q-Balancer Headend Gateway can be either physically or virtually deployed in public or private cloud infrastructures.
Centralized Management System
QBManager is a centralized management system providing comprehensive and powerful features for enterprise networks such as automatic provisioning, configuration management, and monitoring. 
Top Benefits
>  Improving reliability and performance for underlay and overlay networks
>  Optimal application delivery
>  Augmenting MPLS reliability and performance
>  Flexible scalability for WANs
>  Ensuring accessibility to internal server for external requests
>  Lowering WAN OpEx and CapEx
>  Mitigating potential security threats
>  Enhancing dynamic routing capability
>  Minimizing effort for installation with ZTP
>  Simplifying branch network infrastructure
>  Improving WAN visibility